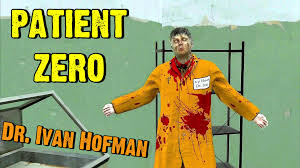 Doctor Ivan Hofman
Edit
Doctor Ivan Hofman ("Patient Zero", most commonly referred to as "Ivan" or "Doctor Ivan", however) is a special type of zombie in DayZ Origins. Doctor Ivan is said to be the source of the outbreak, being the first zombie, and is the hardest of all to kill. It is estimated he has somewhere around ~ 128,000 blood, which means that the most efficient way for both ammo and power of taking him down is with any light machine gun that uses M240 Magazines (~16 shots to kill when aimed at the head). Approximately 300 humanity is awarded to the player inflicting the killing wound on Doctor Ivan. His spawn rate is Unknown but he can spawn nearly anywhere such as Forts or Supermarkets. Multiple Dr. Ivans can spawn at the same time.  
Relation to the DayZ Origins Story
Edit
Located in Sabina, there is a secret underground laboratory that supposedly belonged to Doctor Ivan when he was uninfected. Many hostile AI in the form of scientists in lab coats wielding AK-type weapons will be found here, shooting anything that moves except one another. Some speculate that the lab was dedicated to finding a cure for the infection. Others believe that Ivan himself was zombified here. 
Ad blocker interference detected!
Wikia is a free-to-use site that makes money from advertising. We have a modified experience for viewers using ad blockers

Wikia is not accessible if you've made further modifications. Remove the custom ad blocker rule(s) and the page will load as expected.