Watchtowers
Edit
There are 5 different types of watchtowers that can be built. Each watch tower has different resource requirements and a unique design. Watchtowers allow a unique vantage point but they do not lock and have no storage. Blueprints to build watchtowers can be found at all unique/rare industrial loot spawns (top of white silos, industrial in Novistrana, catwalks etc...) or at Trader City.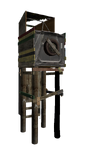 Watchtower (Generic Blueprint Build)
Edit
This is a basic watchtower with little defense and only one stage to build.
1x Blueprint (Watchtower)
1x Screws
1x Reinforcing Material
2x Wood Piles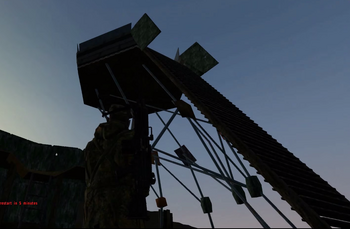 This watchtower design has a manual defense shield. This watchtower requires the following tools in your inventory for various stages:
1x Toolbox
1x Old Saw
1x Old Hammer
1x Old Pliers
Stage 1:
1x Blueprint (WT1)
2x Bags of Cement
2x Reinforcing Material
5x Metal Tubes
1x Screws
Stage 2:
1x Reinforcing Material
5x Short Planks
5x Long Planks
Stage 3:
6x Reinforcing Materials
6x Scrap Connectors
Total:
1x Blueprint (WT1)
2x Bags of Cements
9x Reinforcing Materials
5x Metal Tubes
5x Short Plants
5x Long Planks
6x Scrap Connectors
This watchtower requires the following tools in your inventory for various stages:
1x Toolbox
1x Old Saw
1x Old Hammer
1x Old Pliers
Stage 1:
1x Blueprint (WT2)
2x Bag of Cement
1x Reinforcing Material
3x Metal Tubes
3x Short Planks
1x Screws
Stage 2:
2x Reinforcing Material
2x Short Planks
3x Long Planks
3x Metal Tubes
Stage 3:
5x Reinforcing Materials
5x Scrap Connectors
Total:
1x Blueprint (WT2)
7x Reinforcing Materials
2x Short Planks
3x Long Planks
3x Metal Tubes
5x Scrap Connectors
1x Screws
MORE UNKNOWN RESOURCES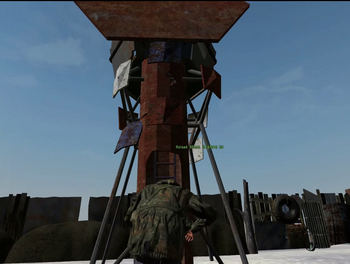 This watchtower has a manual roof defense that looks like a lid. This watchtower requires the following tools in your inventory for various stages:
1x Toolbox
1x Old Saw
1x Old Hammer
1x Old Pliers
Stage 1:
1x Blueprint (WT3)
2x Bags of Cement
2x Reinforcing Material
2x Metal Tubes
1x Screws
Stage 2:
4x Reinforcing Material
2x Scrap Connectors
2x Long Planks
Stage 3:
2x Reinforcing Materials
2x Scrap Connectors
Total:
1x Blueprint (WT3)
2x Bags of Cement
8x Reinforcing Materials
2x Metal Tubes
1x Screws
4x Scrap Connectors
2x Long Planks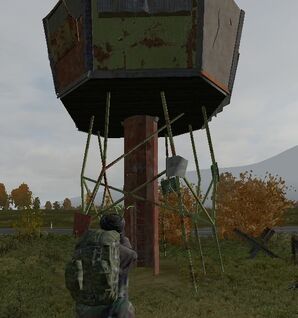 This watchtower has a ladder, two levels and a manual window shield. This watchtower requires the following tools in your inventory for various stages:
1x Toolbox
1x Old Saw
1x Old Hammer
1x Old Pliers
Stage 1:
1x Blueprint (WT4)
3x Bags of Cement
2x Metal Supports
2x Reinforcement Wood
1x Screws
Stage 2:
4x Reinforcing Material
4x Scrap Connectors
2x Metal Supports
2x Screws
Stage 3:
4x Reinforcing Materials
2x Metal Tubes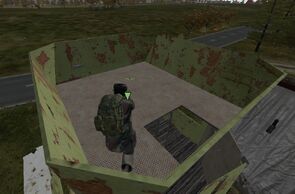 Total:
1x Blueprint (WT4)
3x Bags of Cement
8x Reinforcing Materials
2x Reinforcement Wood
3x Screws
5x Metal Tubes
4x Metal Supports
4 xScrap Connectors